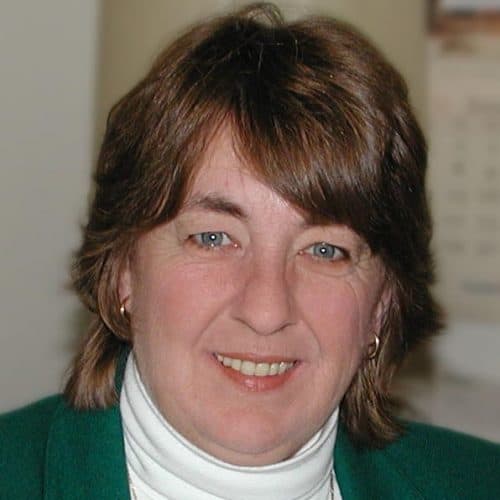 REALTOR®/Associate broker
|
Co-Owner
I am an Associate Broker, Co-Owner, and Partner at Delap Real Estate. There are currently seven of us who have taken over the agency with the passing of Delap Real Estate's founder, Dennis Delap in 2012. We also have many Associate Realtors in our office who contribute their energy and knowledge to our agency's overall success. I am one of the four original Delap agents who helped Dennis start the agency in [...]
I am an Associate Broker, Co-Owner, and Partner at Delap Real Estate. There are currently seven of us who have taken over the agency with the passing of Delap Real Estate's founder, Dennis Delap in 2012. We also have many Associate Realtors in our office who contribute their energy and knowledge to our agency's overall success. I am one of the four original Delap agents who helped Dennis start the agency in 2005.
I have been a Realtor in the Greater Northampton, Massachusetts area since 1991, and have seen many changes in the real estate market. Having lived in the Northampton, Williamsburg, Hatfield area all of my life has given me a special appreciation of the quality of life which surrounds us. I grew up in the wonderful small town of Williamsburg, lived in Northampton for 15 years while bringing up my two sons, Mark and Rob Christenson, and now reside in the lovely farming community of Hatfield (on the north side of Northampton). I have a strong understanding and knowledge of the "Valley's" real estate market and have been a Top Producer for years. My area of expertise includes all the towns in Hampshire and Franklin Counties plus parts of Hampden County. Prior to entering the field of real estate I was an Office Manager at the University of Massachusetts / Amherst for many years.
Everyone has their own set of priorities and circumstances, and it takes a good listener who can process and sort your information in order to best serve your individual needs, whether it be buying or selling. If you've worked with me in the past, you have experienced my high level of integrity, energy, and knowledge. I try to make the buying/selling process as "enjoyable" as possible, and also add to my clients' understanding of the entire process with follow through and communication. Our real estate market is ever changing and the need for a true professional that really cares about you is more important than ever. Please call, text, or email me and we'll get started.
Visit my website often to see what is new. I've added new features to the site and am always striving to make it easier for you to navigate. Our office is conveniently located at 158 North King Street, Northampton, MA 01060.
Associate Broker with Delap Real Estate, LLC
Co-Owner of Delap Real Estate, LLC
Member – Realtor Association of Pioneer Valley
Member – MAR – Massachusetts Association of Realtors
Member – NAR – National Association of Realtors
Put my experience to work for you!!!
Office Location
158 North King Street
Northampton, MA 01060
Contact Info
Specifications
Languages:
Specialties:
Service Area:
Nancy's Testimonials
I have worked closely with Nancy over the past fifteen years, closing many sales and purchases. I have found her to be a tireless worker, diligently and professionally handling every phase of a transaction: from market research to Listing requirements; from Offer stage to inspection dynamics; from pre-closing issues to closing requirements. She then assists with any post-closing matters that arise. Nancy has even met with town officials and boards to resolve building, zoning and health [...]
Attorney Len Jekanowski Northampton
Dear Nancy, Over the course of several years, Wendy and I came to know you through the numerous Open Houses where we encountered you--and we regularly came to your Open Houses because of your unusual ability to make your advertisements interesting, attractive, and accurate descriptions of what you were showing. Those years of getting to know you proved invaluable when we finally decided to buy our present home on Oak Street in Florence. We knew that we could rely on your assessment of the [...]
John and Wendy Field From Northampton to Florence
Nancy is the best! Smart, energetic, dependable--she knows the Valley and the hilltowns like the back of her hand. She has a wealth of information about local resources with the technical knowledge of a building contractor and the panache of an interior decorator. She made the task of selling our home of 20 years virtually painless and walked us through all the steps of buying another home with good humor and perpetual optimism. We couldn't be more pleased about the outcome, and we [...]
Linda and Eric Byrne From Florence to Worthington
We met Nancy while looking at a house she had as a listing. After seeing the house and speaking with her, we decided to buy it, but before we could, we had to sell 2 condos that we owned. We had put one of them on the market before we met her, and the agent we had did nothing with it. We had Nancy take the listing over, and she sold it in about 1 week. Then, when we put our other unit on the market with her, that one sold in just a few weeks. She has a great personality and is very [...]
Stuart & Michelle Brisson From Florence to Williamsburg
I decided, after the death of my husband, that a move to central or western Massachusetts to be nearer my family would be a wise one. On a Saturday afternoon as I left my granddaughter's house I spotted a real estate office and decided to drop in and inquire about what might be available in the Northampton area. My inquiry was welcomed and I was shown to an office where I was shortly joined by a friendly and cheerful person by the name of Nancy Merritt. I explained my situation and [...]
Norita Reynolds--a satisfied client Fairway Village, Northampton
Nancy, I'm here in my new home which is really a "dream-come-true" for me and much of the credit goes to you. Before making a decision on selling my home, it was recommended that I consult with three Realtors. The moment I walked into your office I felt very comfortable and felt no need to look further. I never regretted that decision. You made it such a positive experience. Before I could ask the questions, you had the answers for me. You always kept me informed, were [...]
Betty Scoble From Northampton to Southampton
Nancy Merritt has been my Realtor and friend since 1993. She spent many hours giving me an extensive tour of practically every condominium in Northampton in 1993 to help me come to a decision about where I wanted to live. She also sold one of my homes in Plainfield in 1993, and then again sold my Northampton condo some years later when I was moving to Brooklyn, NY. Both sales were very satisfactory for both the buyers and myself. When I decided to return to Northampton last spring, I [...]
Jane H. Hovde Northampton, MA
Are you hesitant to put your home on the market or to begin the search for a new house because of the many "problems" that so often occur during these transactions? If yes, I have good news for you!! Introduce yourself to Nancy Merritt at Delap Real Estate and you will never regret it. Nancy was my Realtor of choice for both the sale of my home and the purchase of another. She is knowledgeable, professional, kind, and maintains a positive attitude accompanied by a wicked sense [...]
Paige Nangle Florence
Nancy is a great person and Realtor to work with...she's down to earth, trustworthy, and most importantly, she gets the job done.
Sarah from Conway
Nancy Merritt is the Realtor's Realtor. She was referred to me by my friend, a retired broker, whose pricey home Nancy sold in two months. I'd broken my hip and back (don't try this at home) and needed to sell my unique three story historic condo and find some place I could navigate besides a retirement complex, yuck! Nancy found me a charming little one-floor house in my town of Williamsburg. Because Nancy knows everyone in Happy Valley, she set me up with a mortgage banker [...]
Liv Pertzoff Williamsburg, MA
Contact
Hi there! How can we help you?
Contact us using the form below or give us a call.
Hi there! How can we help you?
Contact us using the form below or give us a call.